Our foot and ankle specialists treat many different conditions including diabetic foot concerns that should not be ignored.
Diabetic Foot Pain
Peripheral neuropathy is the most common cause of foot pain for diabetes patients. This can result in:
Numbness in the foot
Inability to tell if the foot is too hot or too cold
A tingling or burning sensation
Sharp pains or cramps
Increased sensitivity to touch — for some people, even the weight of a bed sheet can be agonizing
Muscle weakness
Loss of reflexes, especially in the ankle
Loss of balance and coordination
Serious foot problems, such as ulcers, infections, deformities, and bone and joint pain
If you are a diabetes patient be sure to have your feet examined at least once a year to avoid this condition or to slow its progression. If you are already experiencing any of these concerns please schedule an appointment with our diabetes foot care specialists for an exam and treatment to relieve pain.
Diabetic Wound Care
Because diabetes patients often can't feel their feet very well, they may not notice when they've injured themselves, and high blood glucose levels make it harder for diabetes patients wounds to heal. Because of this, be sure to check your feet for cuts or blisters and treat them. If the wound won't heal or becomes infected be sure to request an appointment to have it treated before the infection spreads to other areas of the foot and leg.
Medicare and some private insurance are offering coverage for weekly dermal allograft application for ten weeks as a new, progressive treatment for chronic wounds that have not shown a 30 percent reduction in size over the last thirty days. Many facilities do not offer cutting edge wound grafting techniques because they do not have a Board Certified Foot and Ankle surgeon as part of their interdisciplinary team.
At Texas Foot Surgeons we are board certified in wound care as well as foot and ankle reconstructive surgery. We work closely with interventional vascular specialists as well as endocrinologists to provide a comprehensive coverage protocol.
Custom Orthotics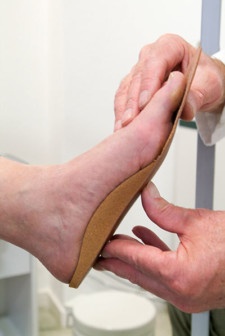 Diabetic patients need to be sure their feet are properly protected with shoes that allow air to access the foot and don't rub or cause blisters. Some patients may also need a custom-fit device inside their shoe to stabilize their feet, reduce shock and relieve pressure. This can help reduce foot pain and protect from future injuries.
Texas Foot Surgeons provides patients with an in-office custom diabetic shoe and orthotic service. This is convenient and doesn't require a second appointment to get fitted, in most cases. Our orthotics team will create the mold just for you and create the inserts or shoes that you need for healthier feet.