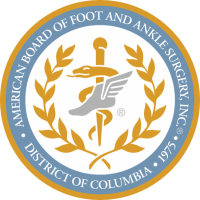 Dr. Eric Pack is an established and prominent reconstructive foot surgeon, and is Board Certified by the American Board of Foot and Ankle Surgery. Dr. Pack obtained his Doctorate of Podiatric Medicine from Barry University, School of Podiatric Medicine in Miami Shores, Florida and completed his residency training from The University of Texas Health Science Center at San Antonio through the Orthopedic Department/Podiatry Services.
In 1994 he moved back home to start a private practice in the Kingwood/Humble area and in 1997 expanded to The Woodlands and Conroe.
Dr. Pack has extensive training in all areas of reconstructive foot and ankle surgery, including but not limited to, fracture repair, joint replacements, peripheral nerve surgery, deformity correction, infections, trauma, degenerative conditions and diabetic limb salvage. Dr. Pack is an INBONE Total Ankle System Specialist and has received training in STAR Total Ankle Replacement.
He is a founding member of the American Society of Podiatric Surgeons and is a Diplomate of the American Board of Podiatric Surgery. He is currently Chief of Podiatric Services at Conroe Regional Hospital and in the last 22 years has held numerous medical and quality assurance leadership positions at area hospital's and Ambulatory Surgery Centers.
Dr. Pack is married with two children. His daughter is a recent graduate of the Conroe High School Academy for Science and Health Professions. She is a three sport letter-woman and was named Conroe High School co-Athlete of the Year in 2016. Now a Texas A&M Aggie, she is studying Political Science at the Texas A&M College of Liberal Arts. Dr. Pack's son plays Quarterback and runs the 300 Meter High Hurdles for the Conroe Tigers. He was named MVP of the JV Football and JV Track Team his Sophomore year. He is currently a student at Conroe High's Academy for Science and Health Professions.